Fulfilling Industrial Chemical requirements with our high quality range including Anthranilic Acid Powder, Phtalimide Powder, etc.
About Us
The demand for various Industrial Chemicals are on a continuous rise in many important industries, and our company, Span Chemicals stepped forth to meet these requirements. Late in the year 1980, we started our business activities as a highly regarded manufacturer, supplier and exporter of a diverse range of chemicals. Sulfo Hydrazone Powder, Sulpho Anthranilic Acid Powder, 5 - Hydrazone Powder, Phtalimide Powder and so on, are just to list some out of a wide variety of chemicals that we deliver to numerous industries. Upon their production, we assure that all the products comply with the highest quality standards. We export our range to countries like U.S.A., Japan, Korea, U.A.E and many European countries as well as merchant exports.
Customer Satisfaction
In our focus on customer satisfaction, we have served our customers with the finest products as well as business activities. We, every time ensure customer satisfaction right from the placement of their orders until they are completed. We are always relying on the following factors to ensure this:
We comprehend accurately what customers demand and are working to get them the most suitable solutions.
We uphold ethical standards while doing business with all our honorable customers.
We welcome feedback from the customer upon fulfillment of their respective orders.
We strive to maintain long-term business relationships with all our customers.
We ensure all orders are completed securely and on a proper schedule.
Quality Management
As an organisation dealing with delivering different types of chemical based goods, quality certainly remains our priority and we ensure that it is managed in all our company activities. We start by engaging with reliable and trustworthy market vendors to receive the highest quality raw materials, but we make absolutely sure they are checked from our end also. We then ensure that all the quality norms are followed in the production cycle, such that flawless products like 5 - Hydrazone Powder, Sulfo Hydrazone Powder, Phtalimide Powder, Sulpho Anthranilic Acid Powder, etc., are manufactured. We also ensure that the goods are tested according to the highest standards which essentially let us achieve the best quality in all processes.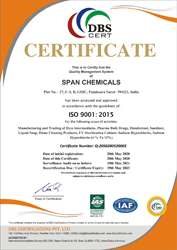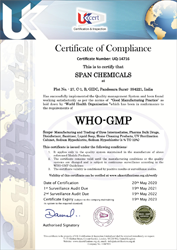 Get in touch with us